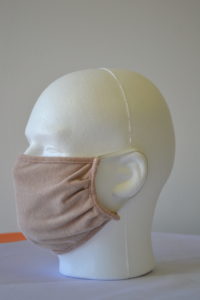 In response to requests from our healthcare customers Cupron developed reusable face masks for general use. The face masks are available in two styles, a 3-layer woven with over the head elastic, and 3-layer knit with behind the ear elastic.
Before purchasing a copper infused mask, it's important to ask if the copper that's being infused in the mask or garment is EPA registered. There are a variety of copper containing compounds that are used in textiles, but not all are registered for use with the EPA or have a track record of testing and data to demonstrate safety.
Cupron uses our own patentent EPA registered copper-based technology that is embedded in the fabric early in the manufacturing process. The technology's unique properties provide anti-odor and antimicrobial benefits to the infused fabric. Unlike topically applied antimicrobial solutions, the Cupron technology does not wash off or rub off over time.
You can download detailed product spec sheets here:
We have ready to ship masks in the woven style and knit styles, and they are now available on Amazon!
Distributors:
Cupron Reusable Face Mask Order Form - 1000 or more