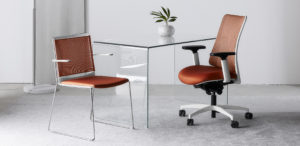 Via Seating has developed a unique copper infused mesh by partnering with Cupron, utilizing their copper-based proprietary and patented technology. The copper mesh works by physically embedding an EPA registered copper into the fibers of our Via Seating copper mesh. Through this process, the copper will not wear off like topically applied alternatives. The result is a self-sanitizing, copper-infused mesh that has strong biocidal, antifungal, and antiviral properties. There are additional anti-odor properties to the copper mesh as well.
Third party testing was performed using three different microorganisms; Staphylococcus aureus, a gram positive bacteria, Klebsiella pneumoniae, a gram negative bacteria and Candida albicans (a yeast) per AATCC-100 on the following surface textiles currently in use in clinical environments:
– Krypton.
– Silvertex.
– Silica.
– Genie Copper Mesh®.
– Genie® Mesh (without infused copper).
These results showed that the Genie Copper Mesh® outperformed the textiles currently in use in clinical areas. Therefore, this mesh back task chair is better than a fully upholstered back task chair for clinical areas and is equal to chairs upholstered with Silvertex.