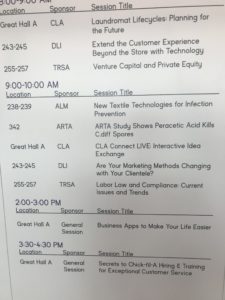 Cupron exhibited for the first time at the CLEAN show in New Orleans in June of 2019. The Clean show  is North America's largest exposition for laundering, drycleaning, textile care services, supplies, and equipment. The Clean Show creates a platform that brings together all industry professionals to network, educate, and share the latest technologies in the industry.
Cupron's own Alastair Monk was a panelist during the ALM session "New Textile Technologies for Infection Prevention" on Thursday Morning. The session covered:
An increasing number of studies show that healthcare-associated infection rates may be improved by adding antimicrobial textiles to hospital infection prevention efforts. We'll review and discuss the range of available antimicrobial products and technologies, discuss evaluation criteria, and the impact of any process changes on hospitals and laundries.